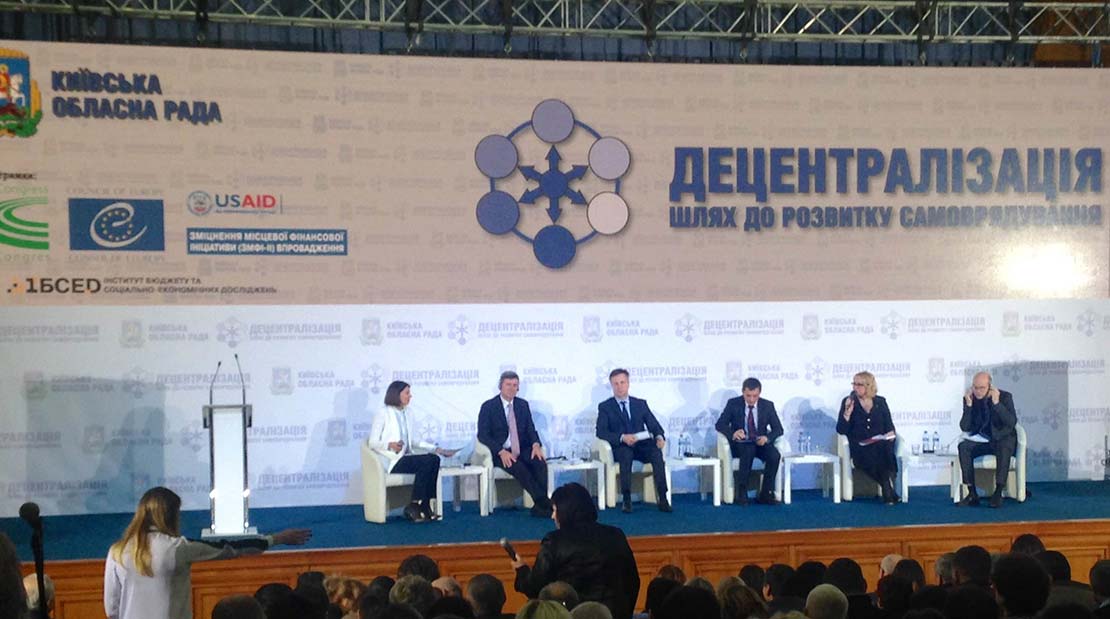 March 1, 2016, a Forum "Decentralization – the path to self-development" dedicated to fighting corruption was held in Kyiv.
During the forum, representatives of international organizations shared their knowledge and experience in overcoming corruption. The representatives of the Congress of Local and Regional Authorities of the Council of Europe took part in the Forum. Congress Secretary General, Andreas Kiefer, spoke of the influence of self-government on the regional growth within the context of the "Charter of Local Self-Government", which Ukraine ratified 15 July 1997. The Director of the Office of Internal Audit of the Congress, Maximilian Tishler shared the standards of ethics and anti-corruption measures that are implemented within the self-governmental authorities of Austria, his colleague, the Coordinator of the Project " Strengthening of Local Democracy", Guillaume Paran, told about the experience of the Council of Europe in combating corruption and the standards and tools that are used for this. Programme Manager for Regional Development of the European Commission in Ukraine, Dominique Pappenheim reported on ways and instruments of corruption reduction in the EU.
The Ukrainian speakers in their speeches noted the destructive impact of corruption on the development of the country and the importance of effective methods of combating this phenomenon to be implemented. Among the speakers were: the First Deputy Chairman of the Specialized Anti-Corruption Prosecutor's Office of Ukraine Maksym Grischuk, former head of the SBU, the Chairman of the NGO "Anti-Corruption Movement" Valentin Nalyvaychenko, Deputy Chairman of the Verkhovna Rada Committee on Industrial Policy and Entrepreneurship Alexandra Kuzhel.
During the event, Michael Druckman, the Head of the Kyiv office of the International Republican Institute «IRI» (USA) presented a case study on the problem of corruption in Ukraine. According to the survey, more than 60% of Ukrainians consider corruption to be a key obstacle to the development of the state and society.