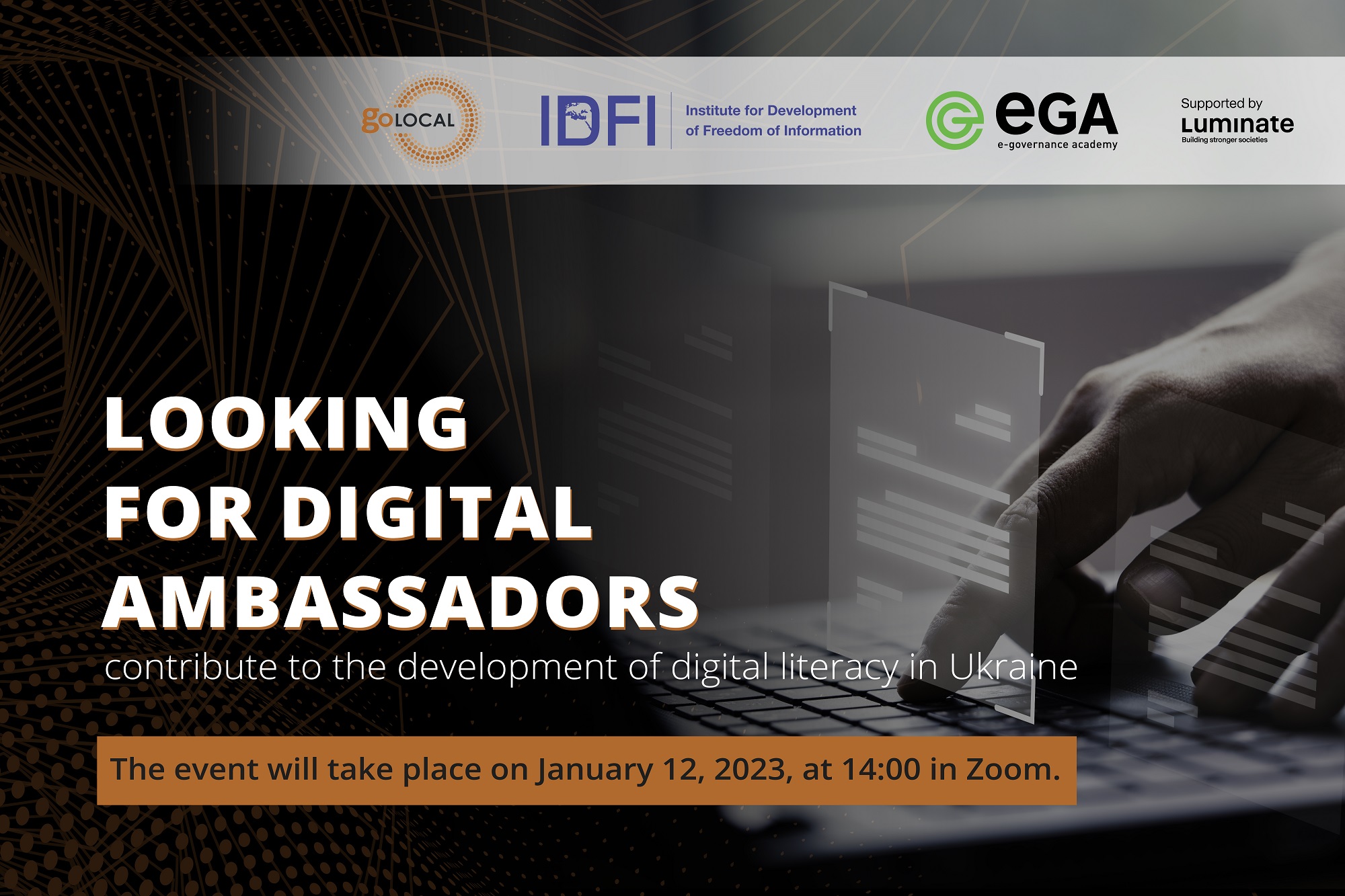 Youths! GoLocal invite you to become digital ambassadors and contribute to the development of digital literacy in Ukraine in the frames of the DRIVE project.
The aim of the DRIVE project is together with digital ambassadors to help digitally vulnerable groups take the full benefit from e-services and online solutions in Ukraine.
Welcome to become a digital ambassador if you are a student, young entrepreneur, representative of public and state organizations or activists who are ready to popularize digital literacy and help others in education. 
The opening event will take place on January 12, 2023, at 14:00 in Zoom. We will talk about:
☑️ Digital vulnerability and why it prevents people from taking the full benefit from e-services and online solutions.
☑️ Who are vulnerable groups in the digital aspect and how to help them adapt to new digital challenges?
☑️ Recommendations and solutions for improvement of the situation.
Also, as part of the project, you will receive three half a day  online masterclasses on idea/service design, working with projects and teams, pitching the value proposition of your ideas, writing and presenting proposals  on digital vulnerability and digital rights, and financial motivation for the most active digital ambassadors who train digitally vulnerable groups on Dia portal:
– EUR 150 motivation for training of 5 or more representatives of digitally vulnerable groups;
– EUR 1,300 motivation to 4 the most active participants who will help train the largest number of representatives of digitally vulnerable groups.
– 2 best proposals have a chance of being funded EUR 10,000 each for implementation .
By the training of digitally vulnerable groups, we mean help in passing the course on the Dia portal.
The initiative is implemented in the frames of the project called DRIVE: Digital Research and Impact for Vulnerable E-citizens that aims public authorities and civil society organizations to be aware of the digitally vulnerable groups and their needs and have improved skills to engage these groups and to prevent the digital divide (further).
The event is organized in Ukraine by NGO GoLocal together with IDFI from Georgia, e-Governance Academy from Estonia and Luminate.
Date and time of the opening event: January 12, 2023, 14:00-16:00. We will inform the channel with the registered participants on January 10, 2023. 
Please register here: bit.ly/3BPrqBp by January 9, 2023
* The project provides for regular online meetings (every Thursday, 2-3 hours) during the project (January 12- March 30, 2023)
** Part of the event will be held in English. If more than 50% of the audience needs a translation, a translator will be added.