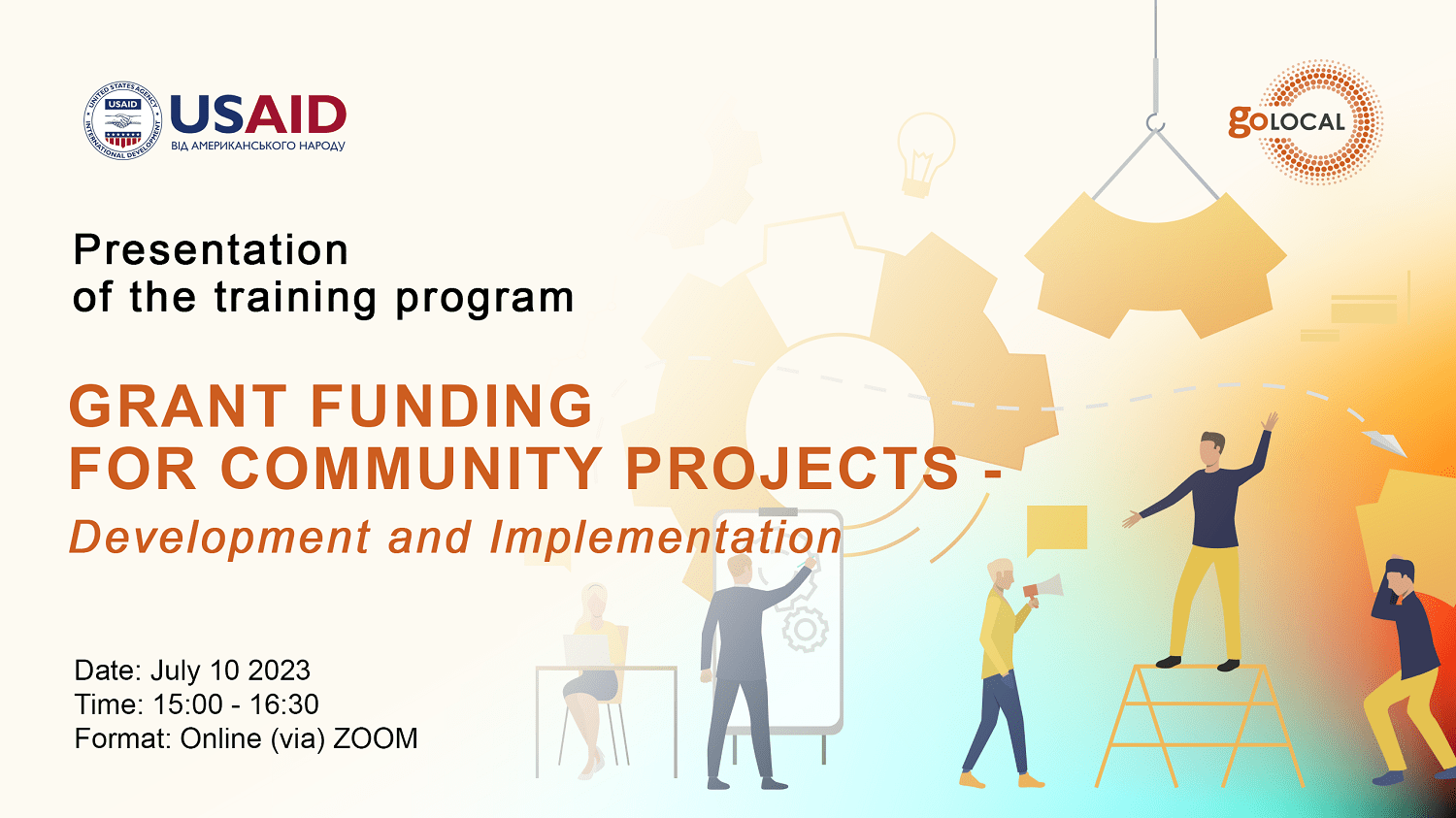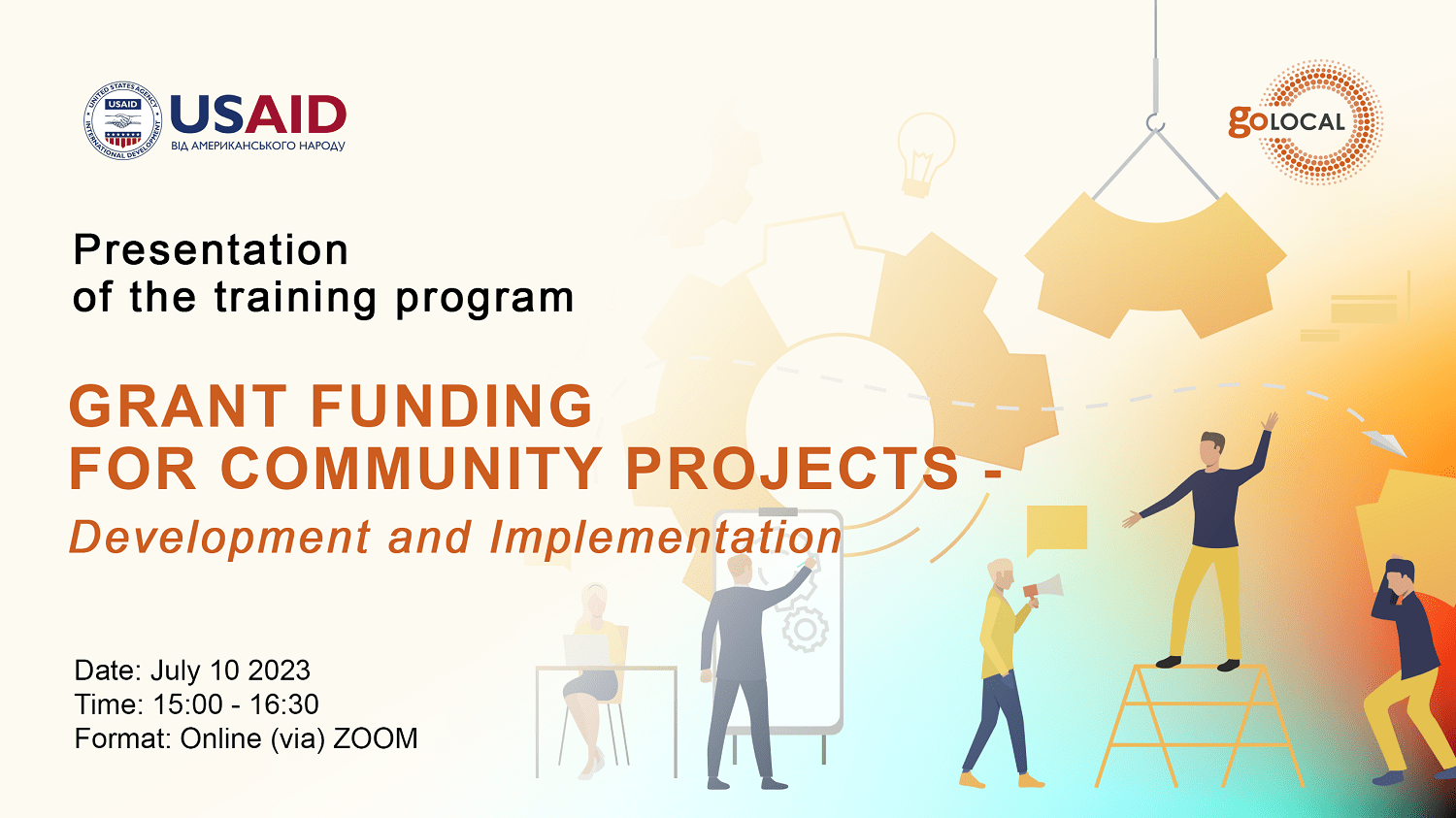 The USAID "Democratic Governance in Eastern Ukraine" project in partnership with the NGO GoLOCAL announces a new training course "Grant Funding for Community Projects – Development and Implementation".
International organizations, foreign governments, and large foreign companies are contributing to the defense of Ukraine and its further reconstruction by offering support in the areas of infrastructure restoration, energy, entrepreneurship, environment, culture, and education. Ukrainian communities should discover these opportunities and become active partners for donor organizations.
On July 13, at 15.00, representatives of local authorities, employees of utility companies and institutions will be presented with the training program "Grant Funding for Community Projects – Development and Implementation".
As part of the training program, participants will gain useful knowledge and practical tools for designing development projects and determining their relevance to donor organizations, preparing successful grant applications and supporting documents – logic matrices, theories of change, etc. Participants will consider the processes of budgeting for development projects and their communication component, learn about effective implementation and reporting, and build effective relationships with donor organizations.
During the training, representatives of local authorities and GoLOCAL will share their successful experience of cooperation with donor organizations. The best 15 communities will receive consulting support on project development and preparation of grant applications for submission to donors.
Program coaches:
Igor Komendo – the head of the NGO GoLOCAL, with over 13 years of experience in public policy, project management, regional and municipal development. Consultant for USAID, UNDP, GIZ. Attracted more than 10 million euros for the implementation of international projects of USAID, SlovakAid, GIZ, NEFCO.

Yuliia Lidich – an expert with over 6+ years of experience in project management in the non-profit sector, as well as business education and marketing, and an entrepreneur.

Sergiy Gorkavy – has 10 years of experience in public administration and coordination of national projects. He is a reform specialist with expertise in legal policy, strategic and operational planning, and European integration. He holds a PhD in international law.

Fedir Voloshyn – a teacher and translator of English in the field of international cooperation and grant funding with many years of experience.
Invited speakers:
Ivan Mukomel – the Regional Director of the USAID Democratic Governance in Eastern Ukraine Project.

Boris Reder – Coordinator of the GIZ project "Support for Structural Change in Ukraine's Coal Regions" (Just transition).

Vasyl Morskyi – Deputy Mayor of Bila Tserkva.

Viktor Galasyuk – Ukrainian economist and public figure, President of the Ukrainian Association of the Club of Rome, Corresponding Member of the World Academy of Science and Art, Doctor of Economics, Founder of the Young Scientists Conference (YSC) and member of the Supervisory Board of the Kyiv International Economic Forum (KIEF).

Vitaliy Vlasiuk – Deputy Head of the Kyiv Regional State Administration, Head of the Committee on International Law at the National Bar Association of Ukraine, former Advisor to the Prime Minister of Ukraine, PhD in International Law.
Date of presentation: July 13, 2023 Time: 15:00 – 16:30.
Registration is open here. A ZOOM-link to the event will be sent to the email you provided during registration. Don't miss this opportunity to gain valuable knowledge and tools for the development and reconstruction of your community and Ukraine.
The project is implemented by the NGO GoLOCAL as part of the USAID Democratic Governance in Eastern Ukraine Project.
#EastOfOpportunities #USAID