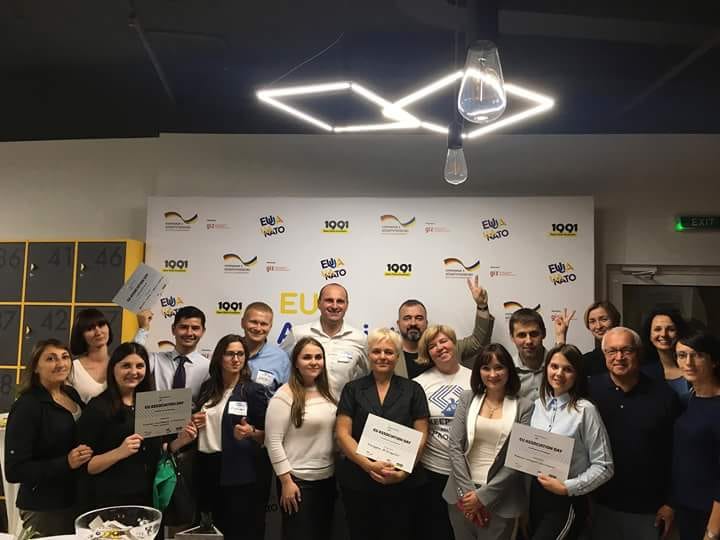 Let us share with you our new achievements! GoLocal has become part of a team that has been selected to go through the EU Association Lab Incubation Program. This program was created by the Government Office for the Coordination of European and Euro-Atlantic Integration together with a Deutsche Gesellschaft für Internationale Zusammenarbeit (GIZ) GmbH. Incubation program is an integral part of the project "Advisory Fund for EU Association of Ukraine" funded by the Federal Government of Germany. This program supports the projects aiming to implement certain provisions of the EU-UA Association Agreement.
Last Friday, during the semifinal selection intensification, our team, which includes representatives of NGO GoLocal, the Ministry of Economic Development, the Ministry of Ecology, SE "ProZorro", the NGO "Living Planet" and the Center for Environmental Standardization, presented "Non-Price Criteria for Public Procurement" project and received 100% support from the jury.
15 teams were competing for participation in the EU Association Lab incubation program. But only 5 other projects (including our one) succeed to pass to the final:
Mobile app "I am an Inspector".

Verification Mechanism for Final Beneficiary Owners (KBBs).

Development of the methodology of benchmarking of electricity distribution system operators (DSO).

A mobile application for consumers of financial services that will help them in resolving disputes in case of discrimination (the unified Internet portal for financial services consumers).

Prototyping electronic resource for cultural heritage and displaced cultural values.
Over the next six months, our team will work on new approaches to implement the "Non-Price Criteria for Public Procurement" project. Within the framework of the incubator, EU Lab will provide methodological and technical support, as well as top-priority equipment for transforming the idea into a pilot product. It should be noted that this is not our first project devoted to sustainable public procurement. In 2017, GoLocal started the educational initiative "Transfering Experience with GPP from Slovakia to Ukraine", which was successfully implemented in the Kyiv region recently.