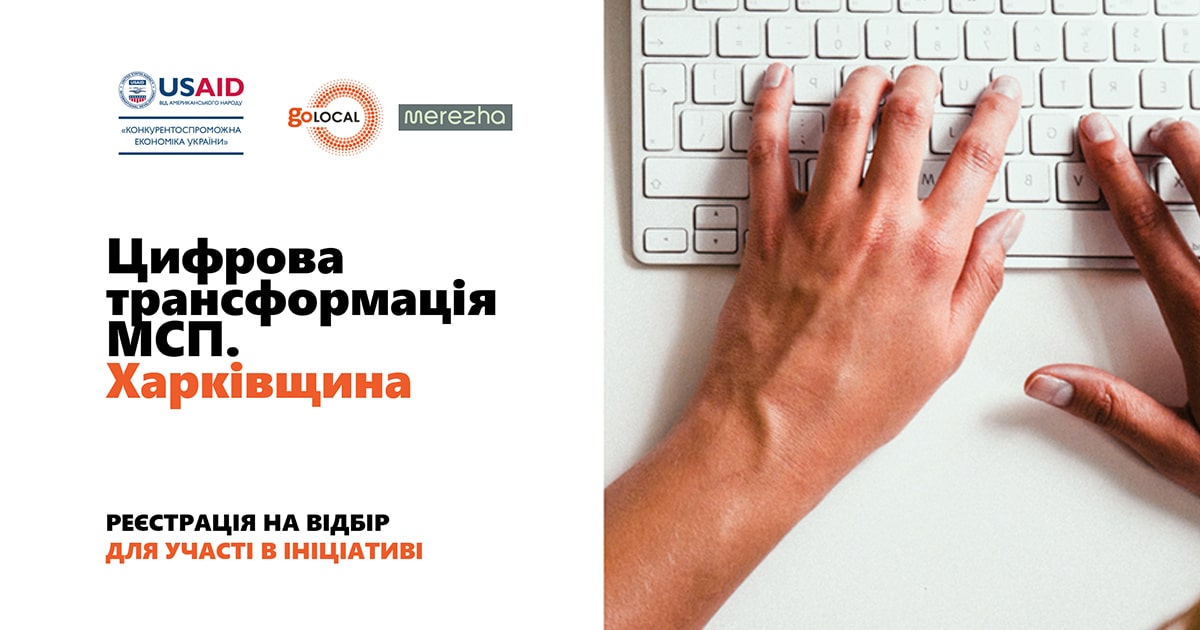 GoLOCAL and USAID Competitive Economy Program in Ukraine (CEP) present new initiative
How to increase the economic viability of a business, achieve new competitive level and not to stay behind modern technological progress? 
The rapid development of IT industry, digitalization of the economy and accelerating global competition – all create additional risks and opportunities for modern entrepreneurs. Some of them, due to lack of knowledge and high operational load, simply do not keep up with the development of technologies and begin to lose to competitors in terms of cost / price of products and services. Others, on the contrary, skillfully use modern IT solutions, adapt their business models and earn abnormal profits even during the global economic crisis.
Ensuring a quality business transformation in its transition to a new digital era is an important task of modern entrepreneurs.
Three key goals of digital transformation of a business: 
increasing sales

through synergies between IT and existing products / services, improving customer experience

reducing costs

via automating routine tasks and freeing up valuable human resource

increasing speed and quality

of management decision-making through automated analytics, visualization, etc.
GoLOCAL initiative "Digital transformation of SMEs. Kharkiv region", which is implemented with the support of the USAID Competitive Economy Program in Ukraine (CEP), attracted leading business experts from the online platform of expert solutions Merezha.
Consultants will provide practical assistance to 12 selected enterprises in implementing modern process management practices, raising awareness of the opportunities and threats of digitalization, building integrated business and IT strategies.
Together with consultants, selected companies will perform the following works:
analyze the process and IT architecture of the company, determine potential economic benefits from optimization and automation of business processes;

identify priority processes, conduct their detailed analysis, modeling and reengineering;

select IT solutions and formulate terms of reference for IT vendors

.
Consultants will help to choose IT solutions and prepare SMEs for their implementation, as industry specifics determine relevance of certain IT-solutions:
CRM (Customer Relationship Management); 

ERP (Enterprise Resource Planning, automation of finance, procurement, production processes etc.); 

BPMS (

Business Process Management System

); 

Business intelligence (BI)

Electronic document management systems, etc.
Length of consultations – up to 200 hours of practice and advice for each selected enterprise.
What if my company was not selected for work with consultants?
All applicants will be able to take 2 intensive online lectures describing modern trend of digitalization of the economy, main approaches and tools for business modernization:
Lecture 1:

Business processes basics

Lecture 2: Business processes modelling in BPMN 2.0
The program will run from April to the end of September 2021, dates of lectures will be announced in March 2021. 
Trainings are free, subject to prior registration.
Who can participate in the selection process?  
medium-sized businesses (from 50 to 250 employees, annual turnover from 8 to 40 million euros.)

small and micro-enterprises (from 10 to 50 employees, annual turnover from 200 thousand to 8 million Euro)

companies operating for less than 5 years and have audited financial statements for at least the last 3 years

enterprises which are located in the city of Kharkiv and the Kharkiv region

no sectoral restrictions
Enterprises that meet the above criteria will go through additional screening interviews, where potential quantitative and qualitative effects from consultant support will be estimated. 
Register with the link.
Registration deadline: 2nd of April 2021, 12pm
"Digital transformation of SMEs. Kharkiv region" – initiative implemented by GoLOCAL is supported by USAID Competitive Economy Program.
GoLOCAL is a non-governmental organization that facilitates regional and municipal development in Ukraine.
The MEREZHA platform provides small and medium-sized enterprises with access to leading experts and expert information in various business areas. The platform is funded by the EU through the EU4Business initiative and implemented by the European Bank for Reconstruction and Development (EBRD).
USAID Competitive Economy Program in Ukraine (CEP) supports startups, small and medium enterprises (SMEs) aiming to provide support for competitive industries and firms on Ukrainian and international markets, foster a better business enabling environment, and enabling Ukrainian companies to benefit from international trade.