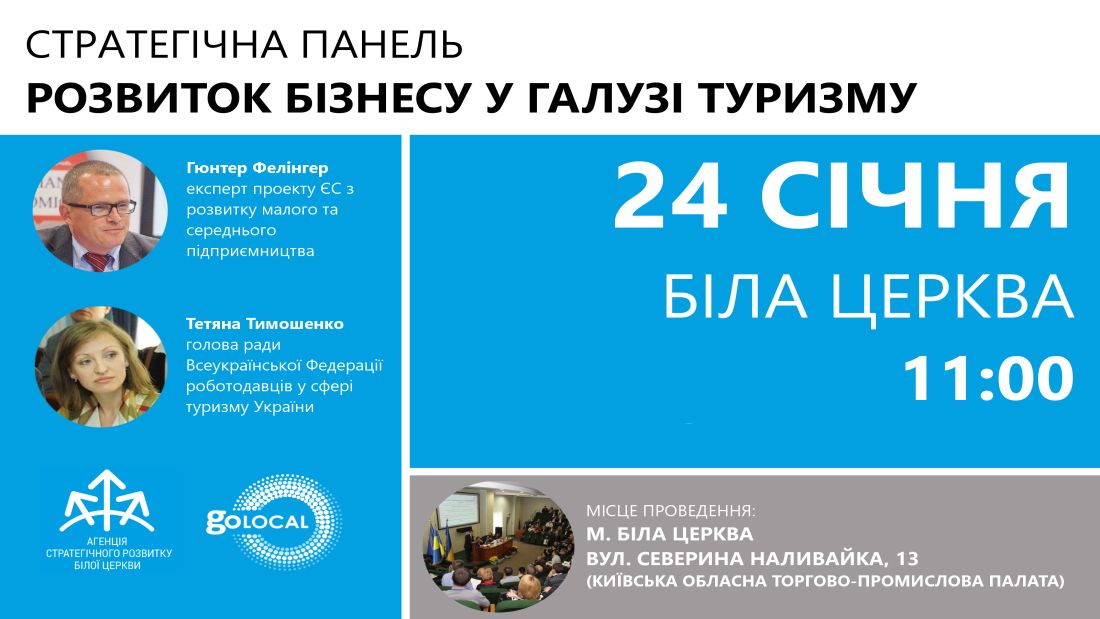 January 24, 2017 from 11:00 to 14:00, NGO "GoLOCAL" and Agency for Strategic Development of Bila Tserkva invite you to participate in a strategic panel "Tourism business development", which will be held in the conference hall of Kyiv Regional Chamber of Commerce (Bila Tserkva, 13 Severin Nalivaiko str).
Please register to the event here: https://goo.gl/forms/P3x06Qfjdc30RpaE3
Key speakers and moderators:
Gunther Fehlinger – expert with the EU project Small and Medium Enterprises;
Tetyana Timoshenko – Chairman of Ukrainian Federation of Employers of Ukraine in the tourism sector;
Representatives of the Agency for Strategic Development of Bila Tserkva;
Representatives of the NGO «GoLOCAL».
Agenda:
Presentation of the survey "The current state of the tourism sector in Bila Tserkva, 2016";
Discussion of the current situation and the ways of Tourism Business development in Bila Tserkva involving international experts;
Establishment of a dialogue between businessmen of the city and the public;
Creation of a tourist cluster in the Bila Tserkva.
We cordially invite active community and businessman to participate in the discussion.