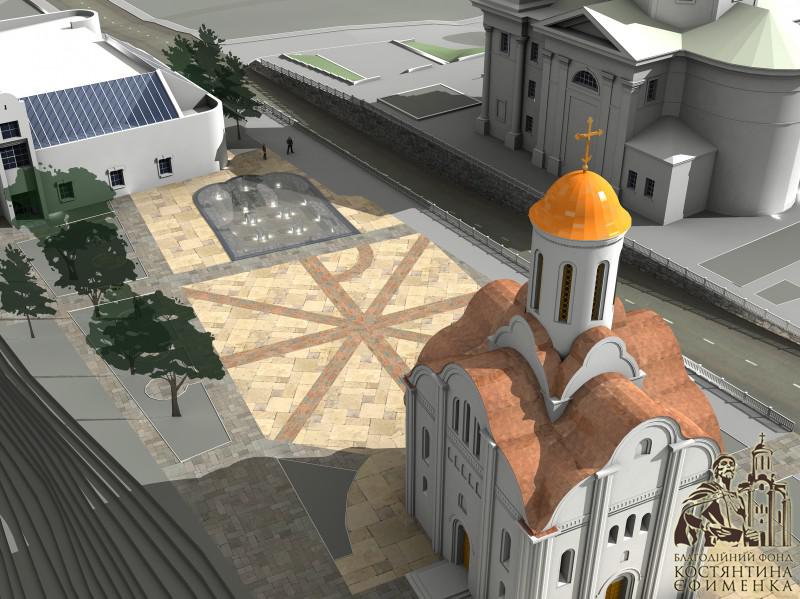 In 2011, under the auspices of the Konstantin Yefymenko Charitable Foundation, excavations of the Zamkova Hora fortifications and the revival of the historic temple the "White Church" have been started. During 2011-2012, the experts of the Institute of Archeology of the National Academy of Sciences of Ukraine have performed excavations and deep research. A number of unique artifacts and other findings have been transferred to the Bila Tserkva Museum of Local Lore, and the foundations of the ancient Orthodox Church have been converted to museum status.
After those remarkable findings the construction of new Church of St. George on a Zamkova Hora hill has started. The construction process has been completed by 2013. The church was painted white, and in some spots constructors have left exposed masonry. The Byzantine style, traditionally used for religious buildings decoration in the XII century, was chosen for indoor wall painting. In 2015, on the occasion of the City Day, the church also was equipped with the night lightening.
These extraordinary events have deeply touched the feelings of the NGO GoLOCAL team, so we have initiated the creation of the "Zamkova Hora" Museum in the basement of the new Church of St. George. The idea is that the museum will store and exhibit part of the found artifacts. It is also expected to devote a significant part of the exposition to the history of creation and development of Bila Tserkva city as well.
At the moment NGO GoLOCAL is working on raising funds for this cultural project implementation.