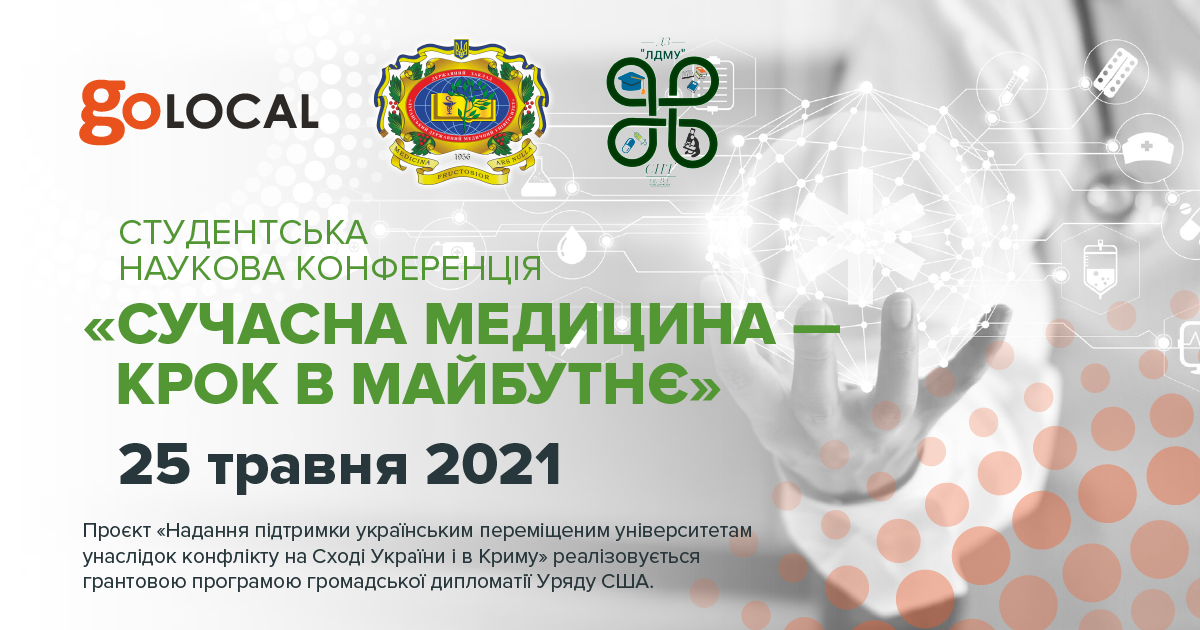 The event was organized by the NGO GoLOCAL and the Luhansk State Medical University as part of the project "Support to Ukrainian Displaced Universities as a result of the Conflict in Ukraine and Crimea."
Oleksandr Gudzenko, Acting Rector of the Luhansk State University, in his opening remarks at the conference stated: "With the support of our partners and the financial aid of the U.S. We have established telemedicine consultations with health care institutions in the Luhansk region, purchased equipment and replenished the library fund with modern academic publications, as well as installed modern software."
Project partners discussed the results of joint activities to increase and strengthen the scientific, technological, and innovative potential of the medical university.
Yuriy Inkelevych, deputy director of the Health Protection Department of Luhansk Regional Administration, said that the staff shortage in the first line of the Luhansk region was 55 physicians, at the level of municipal and district hospitals – 200 specialists. Therefore, students of the university received requests to work in medical institutions of the Lugansk region. 
"We are interested in the fact that the students received a high quality and innovative education to move forward in the medical sphere of the Lugansk region. Furthermore, our organization is motivated by the launch of a pilot program of the Center of Telemedicine at Luhansk Medical University. The Center became the core, to which 12 hospitals are connected. We hope that the development of telemedicine will continue in the region and beyond." – said Igor Komendo, director of GoLOCAL.
The student conference is the final stage of the yard project, which has already been implemented, including: 
the launch of the pilot telemedicine center connected to 12 hospitals in the Luhansk region;

procurement of the IDIS2GO software and hardware complex for the Department of Family Medicine;

establishment of a regional Technology and Innovation Support Center (TISC);

launch of the LDMU Publishing Center;

upgrade of the Lugansk State Medical University library with over 1,500 textbooks and books;

conducting 15 online lectures for physicians and students.
Scott Whitmore, Deputy Assistant Secretary for Cultural Affairs at the U.S. Embassy, joined the online event: "The Ukraine Displaced University Support Project resulting from the Conflict in the Ukraine and Crimea has a visible impact. I am delighted that the students of the university are a part of this vital program."
Students of Luhansk State University, in the format of reports, presented their research in four sections: clinical medicine, experimental medicine, academic medicine, military medicine. In addition, the physicians shared their research in pharmacology, surgery, biomechanics, neurology and psychiatry, industrial pharmacy, and infectiology, which were conducted by the scientific supervision of teachers from various university departments. 
Also, the conference was attended by: Associate Professor of Engineering and Engineering Department of Volodymyr Dahl National University Tetyana Biloborodova, Doctor of Engineering, Professor, research associate of Oxford Brookes University Inna Skarga-Bandurova and Tetyana Yudytska, head of the student scientific society.
The Luhansk Medical University Endowment Project is an excellent example of the collaborative work of the community sector, donors, state institutions, and the medical education institution.
Video of the conference by the link:  https://www.youtube.com/watch?v=C4YaQuOsENQ&t=21s  
*Location – Lugansk State Medical University in Rubizhne (Luhansk region). 
**The "Support for Ukrainian Displaced Universities as a result of the Conflict in the Ukraine and Crimea" project is implemented by the U.S. State Department's Public Diplomacy Program.