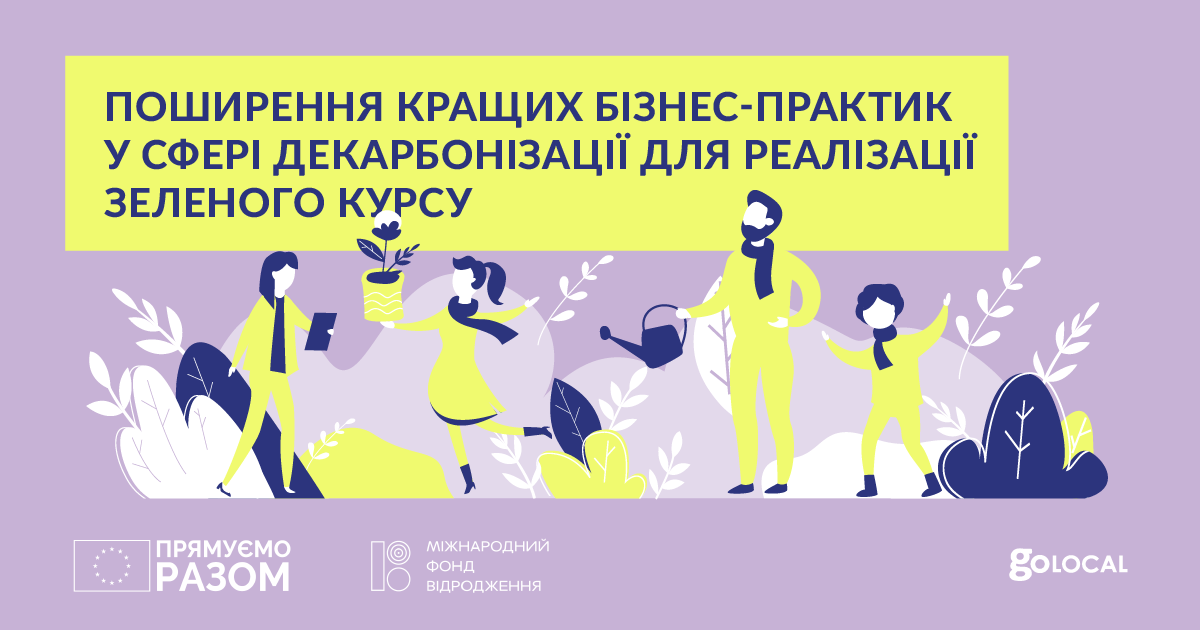 GoLOCAL launches a new project, "Sharing best business practices in decarbonization to implement the Green Deal".
The European Green Deal (EGD) is the most ambitious climate and environment protection program launched by the EU to transform Europe into the world's first climate-neutral continent by 2050. The EGD stipulates ambitious goals for reducing carbon emissions and decarbonizing the economies of European countries.
The adoption of the EGD will significantly impact Ukraine and most sectors of the national economy. Since the EU is Ukraine's key trade partner with an export share of over 40%, the Ukrainian business cannot stand aside from the changes in the EU legislative framework and has to unremittingly reach for the implementation of the EGD as a full-fledged actor.
Our project will help Ukrainian businesses to see new opportunities, solutions and technologies for CO2 emissions reduction (decarbonization) in various spheres of industry.
For this purpose, we plan:
✅ Conduct research to find and equip Ukrainian enterprises with the best technologies in the field of decarbonization in the EU in terms of their efficiency, cost and ease of implementation;
✅Develop a "map" of startups offering technological solutions in the field of decarbonization (within Ukraine and the EU);
✅ Hold a "Matchmaking" Decarbonization Pitch Day to help Ukrainian startups, entrepreneurs, innovators get financing for their projects, find partners or scale up their ideas.
We believe that exchanging ideas, innovations, and partnership is the key to launching decarbonization technologies and sustainable growth.
We are pleased that our partners are also getting involved in the project:
Sector X Acceleration Platform integrates an acceleration hub, corporate programs and venture schools, and UDPRenewables, a Ukrainian renewable energy company that will strengthen the project with its expertise and experience.
"Sharing best business practices in decarbonization to implement the Green Deal" will bring the Ukrainian business closer to the best know-how and show the new opportunities that EGD opens up for Ukrainian entrepreneurs.
The project is implemented with the support of the European Union and the International Renaissance Foundation within the grant component of the EU4USociety project.