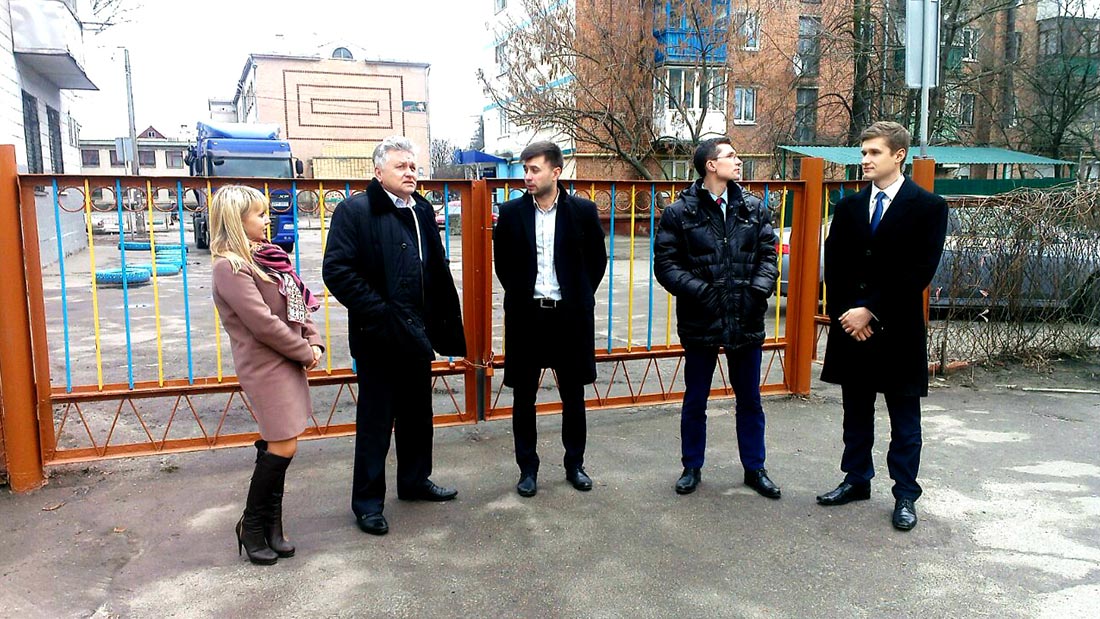 On February 16, 2016, a meeting was held in Zhytomyr City Council in order to discuss the introduction of energy efficient technologies headed by the Deputy Mayor of Zhytomyr city – Dmytro Tkachuk and the Deputy Mayor of Bila Tserkva city – Valeriy Gnatyuk.
Among other participants were: Mykola Kostrytsya – Director of Economic Development Department of Zhytomyr City Council, Borys Pakholiuk – Deputy Director of the Economic Development Department of Zhytomyr City Council, Kyril Tomlyak – Director of "KT-Energy" and Volodymyr Glukhov – Project manager of the NGO GoLOCAL.
Dmytro Tkachuk informed that the city had a unified system of street lighting and traffic lights. Now it allows controlling all switchboards as well as their serviceability remotely ensuring safe traffic.
He stressed that the city pays special attention to traffic safety and the quality of urban transport. Comprehensive analysis of passenger traffic and public transport was conducted to reduce traffic burden on the city center and to avoid duplication of public transport routes.
Valeriy Gnatyuk shared information on the successful implementation of energy efficiency projects in Bila Tserkva and the progress in establishing the process of sorting of solid waste in the city, contributing to the preservation of the environment. He also invited colleagues to the city to exchange experience.
Representatives of the Zhytomyr City Council told about the introduction of the energy monitoring and energy management system in public institutions of the city. The system allows real-time monitoring of energy use of any public institution.
Colleagues shared experience in reducing energy consumption in public institutions, through its total thermo-modernization. In the kindergarten (№63, Zhytomyr) following activities were carried out: winterization of a basement, walls, and roof; replacement of windows; installment of the individual heating point with a counter; installment of the helio system that should provide hot water for the kindergarten in the unheated period.
Volodymyr Glukhov informed the participants about the work of the NGO GoLOCAL and its experience of an attraction of donors to support the implementation of regional development projects.
Kyril Tomlyak shared practical experience in implementing energy saving projects using renewable fuels in boilers and cited the successful example of such boiler, which operates in the village of Ivanivka that is situated in Kyiv oblast.
In summary, it is necessary to note the high level of knowledge and an active role of employees of the Zhytomyr and Bila Tserkva City Administrations. Such approach will soon lead to the improvement in the quality of public services.